Tiled Conservatory Roofs
Supalite Roofs
When choosing a SupaLite replacement or new conservatory roof, you will be choosing the only lightweight tiled roof system available with a structurally built in matching soffit and fascia system.
This was a fundamental design feature. This achieves the look of a real extension to your home and can even be fitted with LED patio lighting for security and added style to match your garden lighting. This optional lighting will most definitely add the wow factor to your property.
10 Reasons to choose your new SupaLite roof
SupaLite roofs will retain warmth in the winter months of November to March
SupaLite roofs will keep your conservatory incredibly cool on sunny days even in direct sunlight
SupaLite roofs are virtually burglar proof and the roofing tiles cannot be easily removed
SupaLite roofs will eliminate any leaks experienced with lightweight polycarbonate roofs
SupaLite roofs will eliminate noise from rain, wind and wildlife (birds)
SupaLite roofs will eliminate almost all glare experienced with polycarbonate or glass roofs
SupaLite roofs will eliminate any need to climb ladders for cleaning dirty roofs
SupaLite roofs provides you with a safe & cosy space capable of being used 365 days per year.
SupaLite roofs are designed and tested to the standards demanded by the LABC
SupaLite roofs will allow you to FALL IN LOVE with your tired old conservatory again.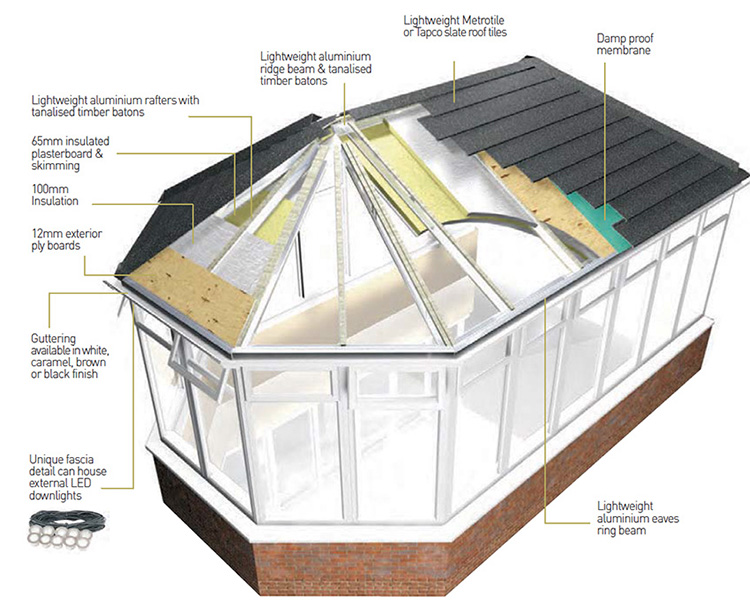 FINISHING TOUCHES
The finishing touches to your SupaLite roof will add a great deal to the enjoyment you will have for years to come. Lighting and ventilation will pay a major part in the daily use of your conservatory so we offer the following finishes.
FAKRO® ROOF VENTS
Roof lights and roof ventilation have been in popular use for the past 150 years. High quality materials and state of the art production techniques enable FAKRO® to ensure excellent quality control and create durable, safe and functional roof windows that, together with their unrivalled insulation properties, are breaking new ground in roof window design and construction.
Insulation
The FTT highly-energy efficient roof windows have been designed taking into account the stringent requirements of passive construction. This specialised and innovative design provides excellent performance by ensuring high efficiency of thermal energy.
LIGHTING
Internal lighting
With a choice of internal lighting types to select from, we will provide you with the lighting of your choice which can be fitted in the ridge bulkhead or a newly installed lighting pelmet which will be plaster finished to match the interior of your roof as a whole.
External lighting
The unique design of the SupaLite roof incorporates an external fascia and deep soffit. Many customers choose external LED's to be fitted into the soffit creating a feature that is both functional and aesthetically pleasing in the evenings. With long life and low running costs the external LED's can be left on all night in areas where security is needed.
All lighting is installed by fully qualified and insured NiCEIC qualified electricians and will be covered with our business comprehensive warranty.
Security
Secure window features a range of innovative solutions which makes it more burglary resistant. The window is fitted with laminated and burglary-resistant P2A glazing, new system preventing glazing removal and handle with a lock.
External Flashings
Precisely designed flashing details ensure a durable and neat fit with the roofing material used. The purpose of flashing is to ensure good drainage away from the window and to provide protection from the elements. As there are many roofing materials available, FAKRO® offers a range of flashing solutions.
All flashings are manufactured using aluminium as standard, permanently protected with a polyester varnish. The standard colour is brown RAL 7022, which match well with most roofing finishes.
METROTILE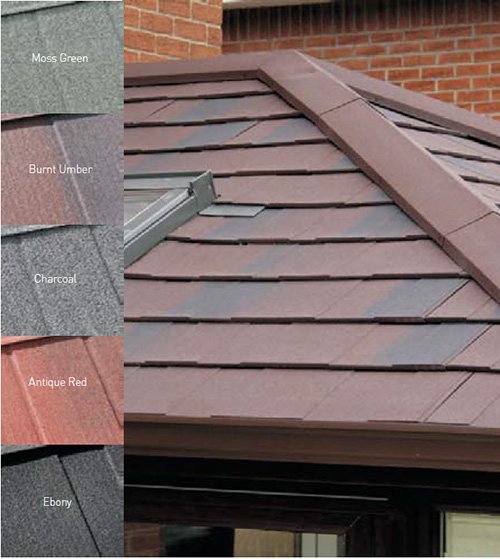 Why Metrotile?
Metrotile's are up to 7 times lighter than traditional roofing materials
A Metrotile lightweight roof places significantly less weight and stress on
supporting structures and foundations
Lightweight tiles are more efficient to transport resulting in reduced cost and lower
CO2 emissions
A Metrotile roof generates no more noise than a roof built from traditional materials
Metrotile's are tested to withstand the most extreme weather conditions
Metrotile's can be used on pitches as low as 10 degrees
Each tile is pressed from the highest drawing quality steel for unparalleled strength
and higher performance
Every installation comes with a unique 40 year weatherproof guarantee
A Metrotile roof needs virtually no maintenance once installed
All Metrotile's meet British and European Standards
Each tile is 100% recyclable
TAPCO SLATE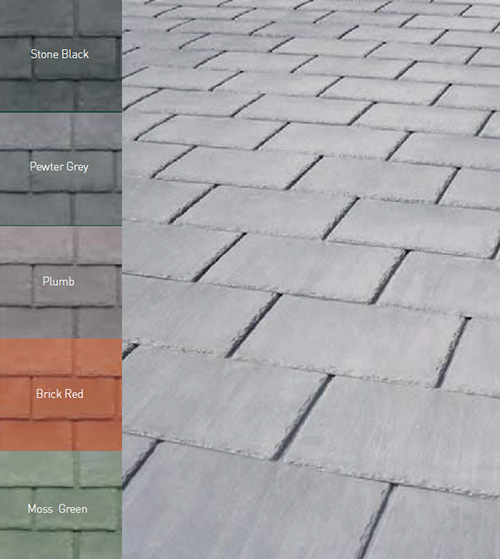 Why Tapco Slate?
For centuries, slate roofing has been desired for its durability and beauty. With authentic surfaces and edges, Tapco Slate highlights the handsome character of slate, at the same time enhancing roof performance through innovative design. Unlike natural slate, Tapco Slate won't break or delaminate and comes with a Limited Lifetime Warranty.
BBA Certified Tapco Slate gives you the power to evoke both historical elegance and outstanding modern-day style. Our slates are created with moulds cast from real slate to capture genuine peaks, plateaus and curves. Colour-through design and UV stabilisation ensure "stay-true" richness for traditional colours such as Pewter Grey, Plum, bold tones like Brick Red and unique selections such as Moss Green and Grey/Black blended tiles.
Tapco Slate Mixes are another feature of our unique colour choices, they deliver uncommon elegance through boldly-appealing multiple colours to turn your roof into a work of art.